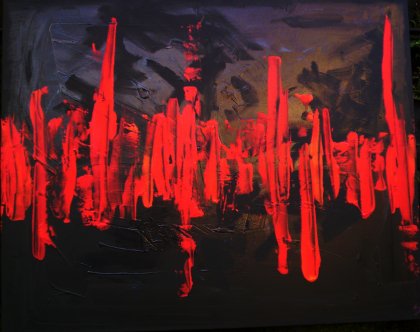 Agora
100 x 80 cm
Acrylique sur toile



Painters
Alexandra D.
I was born in 1981 in Rouen in Normandy, where I spent part of my childhood. I always bathed in an artistic world, surrounded by a grandfather plastic (sort of factor-Horse) and my mother, a painter and sculptor apologist for women.

I studied successively the History of Art at the Faculty of Toulouse, the Plastic Arts at the University Paris-Sorbonne and I have also done research on art therapy.

After several moves (Eure, Yvelines, Eure-et-Loire, Cantal and Haute-Garonne), I settle back in Salers, a small village in Auvergne, whose serenity is conducive to artistic reflections and meditation on world.



" Producing without appropriating,
Do not expect anything,
Without constraining guide. "
LAO-TZU



I work mainly in acrylic: firstly for its drying speed that allows me to explore the fields of emotion, snapshot and compulsive, and secondly, for its pictorial qualities such as the intensity of color, brightness and opacity, particularly crucial in achieving the solids.

I also play on the differences in texture, hence my attraction to the collages and assemblages.

Apart from a few forays into the field of figurative, I realized mainly in abstract works, where everything is possible, where everything is visible and where everything is significant.

The indomitable, the wild one who creates his own moves me more than the order and discipline. Therefore I deliberately flirts with the accident, the loss of control by using jets, tasks and footprints on the road to the unconscious.