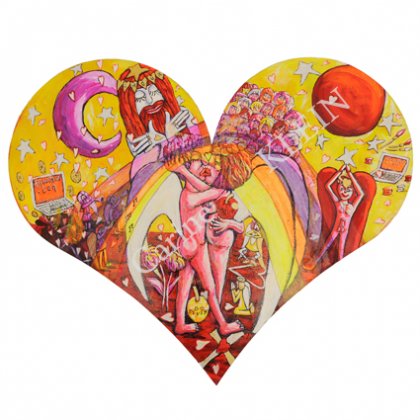 Divine Magic Meet in the rainbow!.
The meeting of kindred spirits in the Rainbow, the Blessed Creator (rice), the Divine, the Angels along with their guides

unique work, unavailable for the moment, because restoration, for an opportunity to gain against the posters.

- 5000€ Unavailable -

Painters
Carine Klein
Painting Carine Klein reports directly to his dreams, feelings, emotions of a moment past, present or imagined. Magic moments, intense happiness often drawn to sources of childhood or heavenly visions that bring life to those she never stopped loving.
Jean-Louis in April Univers des Arts.

As for parole, the paint is the best for Carine expressions. It allows you to retrace the magical moments in the spontaneity of line and the momentum of its hot color palette of the heart. Fundamentally optimistic nature, its sensitivity is also known Transpose insurmountable moments which, despite everything, we often reinforce face our destiny. Each of his paintings is an act of faith life.
Jean-Louis Avril, Univers des Arts.