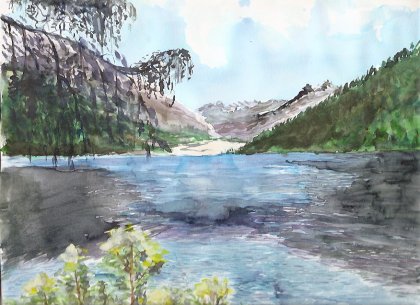 Paysage lacustre
9 3/8" x 12 1/2" ; watercolour on cold pressed paper 200g/m²



Painters
Denis Dupon
Self-made-artist, i consider that arts must edify mind, show new horizons. In the whole arts-except painting-one attracts me : this art is music.
Painting and music are "overlaped". This is the main idea of my work. I try to link a visual feeling and a musical feeling.
"There is a feeling resulting from this arrangement of colours, of lights, of shades, etc. This is what we could call the music of the pictures." Eugène DELACROIX
The classical composers who inspire me are Brahms, Debussy or Tchaïkovsky for example.
In the painters'side, i am sensitive to the impresionist movement : it means that i try to describe the feelings coming from things and lights.
Finally, with my work, i would like to conduce people to music, literature… and further. Cause arts must not be put in closed boxes, but must set connections and create overtures.