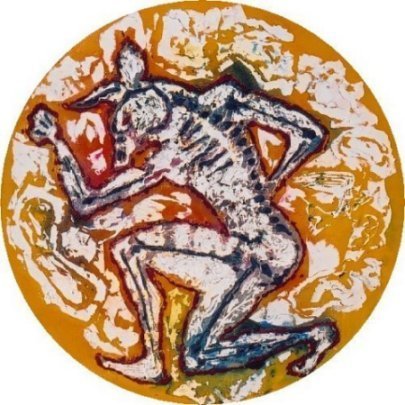 Minotaure
Casein and peel paper on canvas Ø 100cm 2006



- 2000€ Available -

Painters
Dominique Digeon
Serial painter

During 33 years ago, in an active operational practice, but without repetition, I delved more than 25 series, (and others like orphan works witch constitute a chronological group).

Armed with paste (rabbitskin glue or casein), with brushes and also knives (not trowels, but scalpels which cross, scrape, cut, peel and incise…), I dissected/built tens of painting and extracted theirs internals functions, breaking, blunting hundred of blades.

Under worship Mithra avatar's, mysterious and surely unnameable practice, according to Plutarque, in the mediterranean caves by pirates, and bullfighting's ancestor; the idea is: "the desiccation until the fossilised organic substance", and so I introduce the theme of Minotaure.