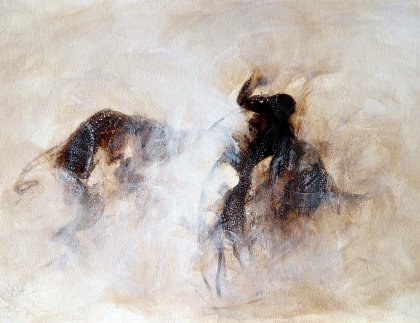 just
Scenes tauromachiques brushed without regrets, gestural hallucinantes of movement and fluidity.
Could we distinguish man from beast? In this union that the movement sublime ….

For in these magical moment, whirling life and passion we are gl

40x60

- Available -

Painters
Dominique Philippe
Born in 1947 in Limoges, very young Dominique developed a passion for art. Aged then sixteen years old, Dominique détrôna most competitors adults, taking the second prize from the hands of Nana Mouskoury. At 18, his works were exhibited at the gallery in Paris Montpensier, in the gardens of the Royal Palace and received praise from several art critics whose Arnaud Chaffanjon "Parisien Libéré"
His first exhibition in Milan received the praise of art critics including Mario Portalufi of "Notte, as well as from Filippo Abbiati of the weekly" Panorama ". Dominique then travelled to Greece and then to Morocco. C'est à Harbour Gallery exhibited the paintings that inspired during these wonderful trips. He went to London in 1976 where he met Manuel Quintanilla, a Spanish philosopher, poet, painter and art historian, publisher of the "Spanish" Mundo. (Dominique I met at one of my shows that essentialist j'organisais around the world, in London, Paris, Malta, Italy, New York and Chicago).

The participation of Dominique to contemporary art is undeniable. He participated in the prestigious independent fairs, exhibition and trade fair autumn purple. He was named winner of the founding of France, and sets in major galleries Parisiennes. It was in an old Picarde purchased from the state of ruin that Dominique and his wife Alice realize their cultural centre inaugurated on May 31, 1987. Many artists could benefit from the generous assistance of Dominique and Alice. Encouraged by this time in recognition of France, Jack Lang, Nadine de Rothschild, Charles Houlmont (Chairman of the Foundation of France and Curator of the Museum Pontoise).

His meeting with Belgium was a direct consequence of its national success in France. After briefing in Brussels and Namur, it Profondeville he created his own gallery of the "Eagle Nest", which was inaugurated on January 27, 1992. Dominique, always dedicated filed its confères painters, sculptors, composers, poets and musicians to an international audience delighted. Dominique, while being responsible for organizing different events in the centre, continued to paint and exhibited in Europe and the USA. Now, it's on the side of Hermetton On Meuse that the artist and his wife, Alice, have settled. Dominique has decided to take a step back after this eventful life for the better right to the Art, in this beautiful house, which is located along the Meuse.