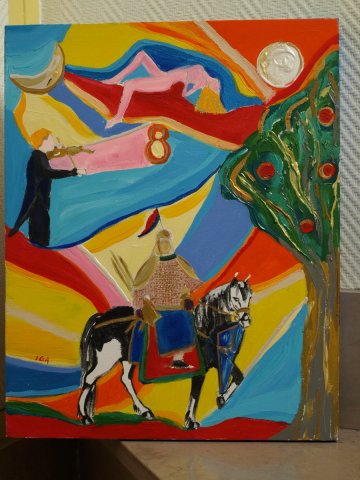 ... , ... , ... ,
2008 , 40 X 30, t . / acrylique



- 1900€ Available -

Painters
Iga Gielniewski
"activity: painting
style: conceptual, fantasizing, symbolism
material: acrylic

"symbolic, allegorical painting"
Iga is interested in universality and timelessness. The
artist is dependent on the material which comes by the paintbrush, the colour
from which a powerful, eternal light arrives.
From this same colour- material comes from the force of a
painting which creates at the same time an odour, an atmostphere, a thenody, an
imprisoned madness.
Pummuled, blistered, streaked, the painting releases the
undeniable tension of the artist who invents stories and symbols, combining
present and past.
T. Demaubus


I'm looking for the humans in their histories , their
spiritual changes.
But my paintings are mostly a homage to feminity, to
eternal Eve, Marie and Béatrice.

Because, according to me, woman is always a double and
she fills everything.

In fact, isn't she God herself ?