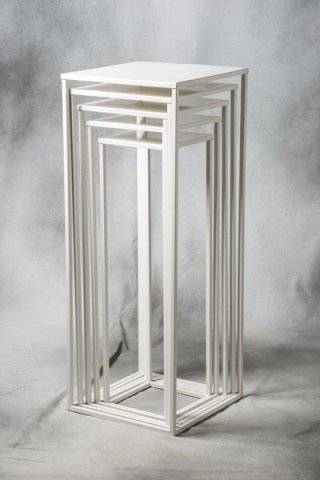 Socles model PENTA
Five (5) encased steel made pedestals of 90, 95, 100, 105 and 110 cm high with a plateau of 26, 30, 34, 38 and 42 cm large.
They exist in black or white color and support weights up to 50 kilos.



- 329€ Available -

Designers
Jan Peeman
Our Penta model of 5 nestable pedestals support 50 kilos. easy to transport and to store they are the ideal way of valorizing your artwork.
Penta consists of 5 encased supports

(height 90, 95, 100, 105 et 110 cm with plateaux of 26, 30, 34, 38 et 42 cm wide).

The "Evolution" model presents several advantages:
A real gain of space (transport and storage).
Made of steel they resist against shocks.
Its soilid and lightweight structure allows the development of the exhibited work.
The support can be sold with the work thus facilitating sale.