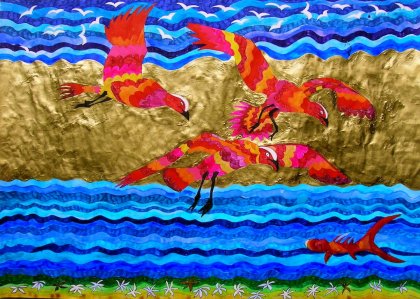 Les oiseaux pêcheurs
Encre et gouache sur papier Format : 42 cm x 60 cm
- 85€ Available -
Painters
Kata Keresztely
My painting can be divided into three groups:
1. "The World of Men" representing scenes of every-day life. Their style is between comic strip books and naïve art,
2. "The World of Animals", a fictive world based on geometrical forms,
3. "The World of Letters" containing calligraphies inspired by poems written in French, Spanish, Arabic and Hungarian.
I use several technics and the materials: collage, drawing, painting and writing, ink, aquarelle and gouache on paper.