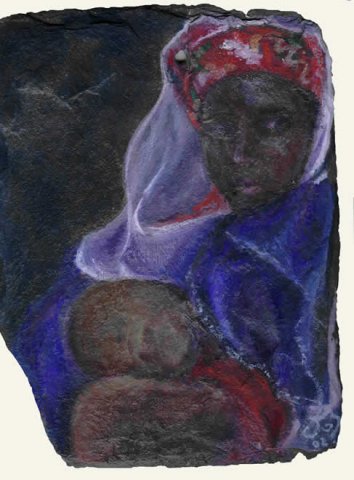 Amina
I disappeared in the bottom of nowhere to bring you back some pebbles ; they can, when they do not kill, show the way, filter and protect dreams, shelter sleeping
memories… Scales from the belly of the earth, slate tiles nourished with eggs a

Tempera on slate 8x11 inch

Painters
Marianne Grommet-Bangwa
A self-taught artist, I have always loved painting…
Gouache, oils, water-colours, pastels, temperas… with brushes or with my fingers, the medium becomes a privileged friend, leaving through its very nature, a vibrating and colourful mark.
Passion, curiosity and wonder are paths leading me toward silence. While creating, I discover a reflection of my own essence within life.
Meditating in shadows and lights, depth and transparency, beings and movements, I strive to tame time itself as it basks in the very moment.