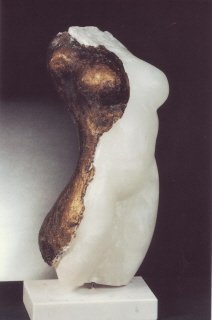 Dualite
Unique piece of alabaster and Bronze. In each person hides a yin&yang man & woman energy. Duality is also expressed in two different materials of harmony in accepting our differences inside of us. Nicole Durand is a Gemini and has been dealin

Dualité In elk mens schuilen verschillende kanten, yin/yang, mannelijke en vrouwlijke energieen. "Dualité" is een expressie van verschillende materialen die in harmonie zijn met elkaar en elkaars verschillen accepteren. Nicole Durand i

Sculptors
Nicole Durand
Nicole Durand (born 1957, in Lyon, France) is a sculptor based in Italy. Her monumental sculptures in stone and bronze commemorate the human form and are featured in galleries and museums around the world. In addition to her many exhibits, Durand is an active member of the art community belonging to several societies around the globe.

Durand received her formal training at various art schools along the French-Italian Mediterranean Coast and is fluent in French, Italian and English. Her study includes the highly esteemed "Pietrosanta Scuola, " one of the fare most stone carving studios in Europe.

Durand is more interested in emotion than classing her style as abstract or realism. She believes the stone informs you what it wishes to be and she merely allows the thousand old medium to determine its own fate. Her goal is to give the stone sensuality and make it breathe. She sees herself less an artist and more stone facilitator.

Equally important to Durand is teaching what the last several decades have taught her. She currently teaches sculpture at the School of Beaux Art in Menton, France and has continued to teach at her own school she founded presently in La Mortola Superieure, Italy.

Durand uses a range of materials and scales in her work and celebrates the human form with her nudes and torsos. She shows us she is a master that should be recognized as someone who has taken the time to savor the body, shed the shame and appreciate the power that lies beneath all of us and beneath the stone.

Durand currently lives in Italy where she can most often be found in her atelier, be it carving or teaching, she is never fare from her work.