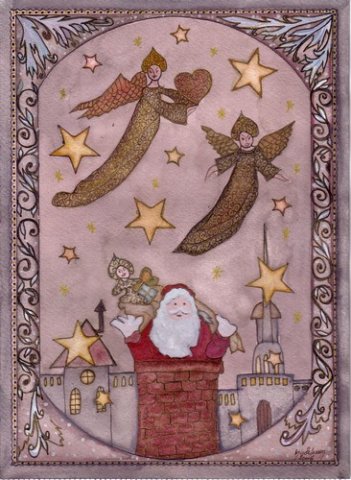 Dans la cheminée
Aquarelle et encre de chine



Others
Nicole Pessin
I am a plastic painter and I live in the region of Grenoble. I work a lot on the human body: heads without bodies, bodies without heads, legs, hands…..I dress them with papier mâché, compresses, crêpe bandages. I trim them with lace I make myself. I also pierce their hearts and their hands….. with old rusty nails or miscellaneous objects. At the same time, I paint in watercolours and Indian ink. Thus, the world I create is dreamlike, close to childhood and fairy tales. Some may wonder about these two different worlds. Don't be surprised.
I am the moon and the sun,
angel and devil,
good and bad,
male and female,
white and black,
yin and yang….
Choose the one you like best…
But both worlds belong to me, they are my whole, they are myself,
I am neither in primitive nor in peculiar art, nor garish, nor academic art….
The only legitimate label I claim is "No bar code"
Don't ask me questions about what I am, you will find the answer in my painting.