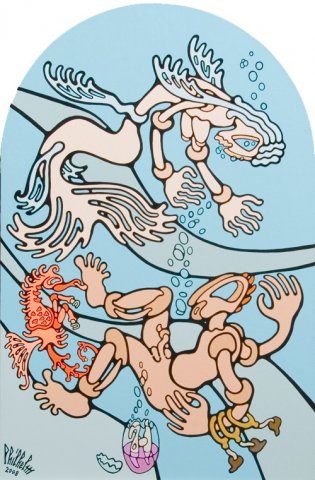 M92 - SIREN, COURTIER AND AEGEAN SEA HORSE - 2008.
MINOAN / A siren welcome addition to a Minoan come to join in its waters. A sea horse 4000 years old attending the meeting! The eggs hatch seems the seabed contains the monogram Philhelm.

Acrylic on canvas - bent frame - 127 X 85 cm .- 50 X 33, 4 inches

- 5400 TTC€ Available -

Painters
Philhelm
92 rue Mélanie
67000 STRASBOURG - France
Bas-Rhin
0388311010
philhelm@free.fr
Web site
I decline colors in a correspondence with the images and the original writing, to find a small history of the past, in wich my monogram would always have been present such an archetype. This revival for a few years, I have tried to reveal it because the Gods came one day to my meeting ! They condescended to introduce to me their messengers as heroes accompagnied by their sphinges : That they forgive me, if I dare to quote them in the joy of my heart, even I put no bad shame to ask them for grace. If I try to make be reborn by my legends, some fragments of a lost knowledge, and really immortal and sacred, I owe it only to the works of very numerus archaelogists or historians. I have no vanity in my creations. Even if I might not create anything good or beautiful in all of my life, I will still feel a real and deep ecstasy in tasting the beautiful and great work of others that I distinguish and admire whether Etruscan, Cretan, Assyrian or Sumerian ?