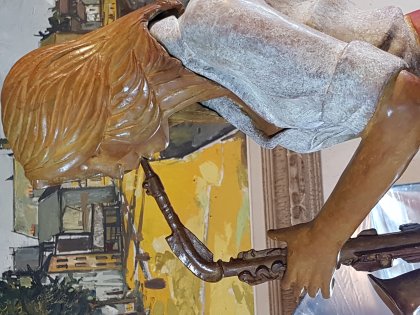 The Saxophonist
The saxophonist, a work overflowing with energy and strength. Inhabited and generous, she transports you to her universe in two phases three movements but always on a jazz tune.

Height 82 cm Weight 17 kg

- 6060 €€ Available -

Sculptors
Rémi Coudrain
Le Moulin
72310 Cogners - France
Sarthe
0638507284
remi@coudrain-sculpteur.com
Web site
The sculpture is the most universal of arts
Create sculptures is Passing Through volume and contours of a block of material , the whole range of feelings and human emotions.
The sculpture is not a banal imitation of the reality .
IN contrast, Sculpture helps me to understand and interpret the expressive potentialities of matter to
Extract the shapes corresponding as closely as possible to the ideas, sensations , emotions I want to convey .