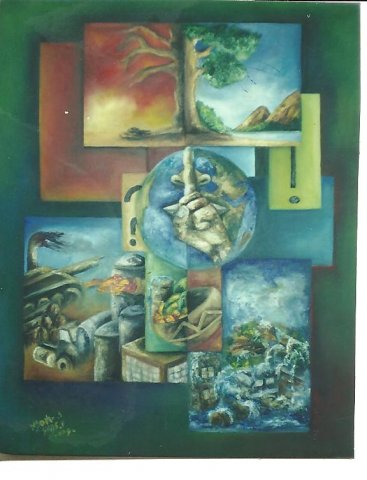 ENVIRONMENT AND US
What will become of us if we destroy our living space? Should we remain silent? Do we not believe that we are the architects of our own destruction as manifested by natural disasters?

TECHNIC: painting oil DIMENSIONS: 60 x80 CM YEAR OF REALISATION: 2010

- 700€ Sold -

Painters
Silas Benjamin Mbong Ngan
P.O BOX:8102 YAOUNDÉ CAMEROON
00 237 YAOUNDE - Cameroon
(+237) 99 78 85 81/22 64 81 89
mbongngan@yahoo.fr
Web site
Born in september 1979, eighth of none children.

Having never been formed at some school and being inspired by no artist, his talent is really innate. His technique is totally personal . He uses mainly the oil paint(painting) which he rarely mixeswith some acrylic and sometimes with natural essences.

Firing his inspiration of all which surrounds him, he works largely on paintings(clothes) and also realizes some sculptures and installations.