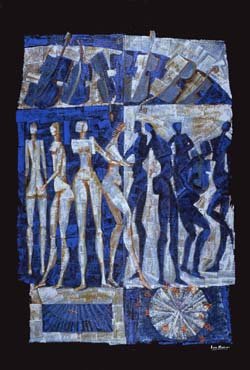 Gnomon
c'est le clou qui marque le temps de l'ancienne montre solaire. il est le temps qui passe et il marque les événements humains. il est ce que tout nous percevons et que nous enregistrons dans notre esprit.

it is the nail that marks the time of the former solar watch. he/it is the time that passes and he/it marks the human events. he/it is that that all we discern and that we record in our mind.

Peintres
Marino Enzo
via Pio XII, 114
80026 Casoria (Napoli) - Italy
Campania
+39.0817361819
marinoenzo@yahoo.it
Site web
His aesthetic, "cognitive-connecting" thought, explores the human distance and its positioning in the time. His studies carry him to suspend the human figure in an indefinite temporal space between the being and the non-being with a game of negative-positive.
He uses new materials and invent again the use of the traditional materials. Between the other the new technical of "Alaniline" (1972 are its), of "Rollerpainting" (1983), of "Tempere fuse" (1975-1984), of "Graffisculture" (1999) and of "Endosculture" (2004).